We were headed to Yugawara for my birthday present which was a getaway at a ryokan (an old style Japanese hotel) but first, I had to shoot the CEO of some company. I wanted to pick up a reflector on the way but between the traffic and the stop at the camera store, we ended up getting there late. The Japanese are ever so gracious and I got the shoot done very quickly. Funny how, even a late as I was to get there, the CEOs and his assistant sat us down for a cup of tea before the photo shoot began.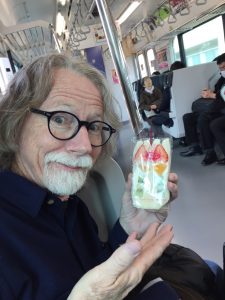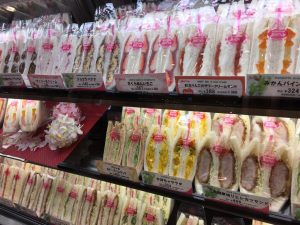 After the work was done, it was time for vacation to begin in earnest. We went to Shinagawa and waited for our train at the station. Kaz disappeared for a while as Squi and I enjoyed all the trains coming and going. Every time Kaz disappeared in Japan, she always came back with food and this time was no different except for one exception. She got Squi a very special surprise – a fruit sandwich! I had seen most of the other stuff she had in bento boxes but never a fruit sandwich. It is now Squi's favorite.
The train ride took us down the East coast of Japan to Yugawara.
https://www.jnto.go.jp/eng/regional/kanagawa/yugawara.htm
From there a short taxi ride to Kamata, our ryokan.
http://www.kamata-oku.com/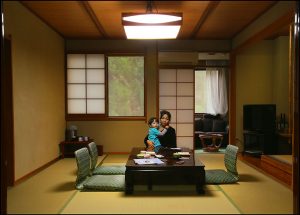 We arrived in the early evening and were able to walk around the grounds and take a few photos. I have this thing for bamboo forests – why or where it comes from I have no idea, but I enjoy them. So I was happy to see a small stand of bamboo near the ryokan.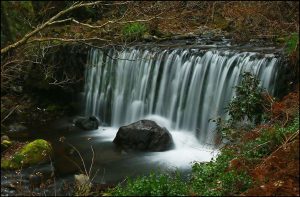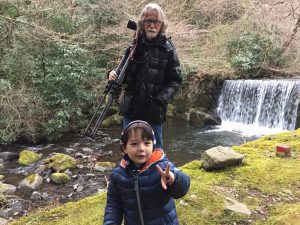 There were a couple of waterfalls and a koi pond and unlike Tokyo, it was peaceful and quiet. I can't think of a better place to spend a birthday with my family.
We were shown to our room but Squi ran ahead and down the hall to what he thought was our room. Unfortunately, he went in the wrong room and we went into OUR room knowing he would be along soon. Sure enough, after a minute, he strolled into our room to join us….but not before he announced,"You do NOT wanna go in THAT room….(the room he had mistakenly gone in)…there's a NAKED MAN in there!" I suspect somewhere in Japan, there is a man still wondering who the heck the little boy was that disturbed his privacy.
After settling in we had an amazing meal of lobster and sushi (Squi had a burger).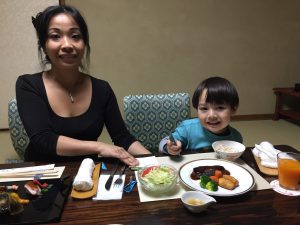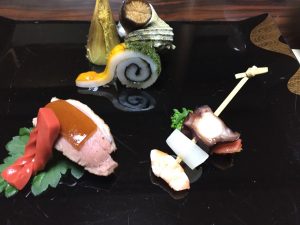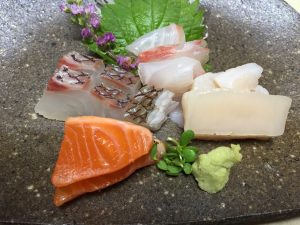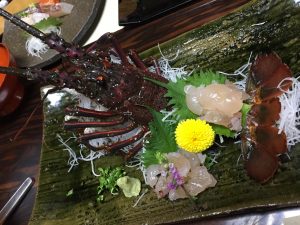 We decided to try the outdoor private onsen but that proved to be a mistake. In our bathrobes, it was cold walking to the onsen and when we got there, I couldn't even hold my foot in the water. It was waaaayyy too hot. So we took a shivering walk back to our room and drew a tolerably hot bath there.
Subsiding goose bumps and another beer put me in a true happy birthday mood as I soaked in the tub.
As we were checking our emails, catching up on the days events in the news, and having another laugh over Squi's misadventure, the ryokan staff showed up to make up our futon beds and we were all ready to snuggle in for a comfy night.