Another full day in Japan. It was the day John Jack (by now, better known as "Jesus Jack") had to head back to Los Angeles. We sooo enjoyed his company that we hated to see him leave. We have a tradition when we are in Japan that we go to Dennys for breakfast. Yep – I said "Dennys". It's a funny aberration of what we have here but is none the less a Dennys – logo and all. There are lots of things you can get at Dennys in Japan that just aren't available at the Dennys here, so it makes it an adventure. Salmon and rice with natto (fermented soybeans – yum) is on the menu and quite delicious in my opinion. Google "natty" – it'll bring a smile to your face.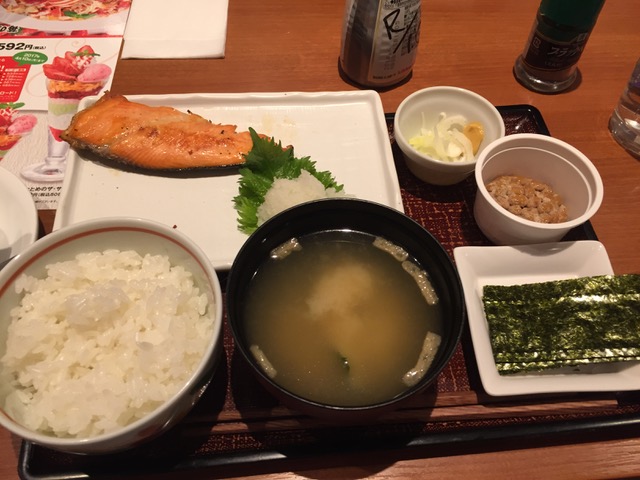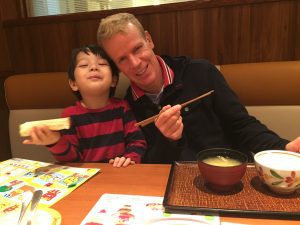 The Japanese never seem to offer decaf coffee in their restaurants, so those of us who drink it end up having to drink the regular "high test" and get a caffeine rush to start the day. So after breakfast, I was ready to run a marathon but it was time to take Jesus Jack to the hotel so he could hop a bus to Haneda airport.
We were about a week early for the cherry blossoms but we found one tree that was blooming and did a selfie with JJ in front of it for a good memory.  We got JJ on the bus at the Shinjuku Hilton and Squi did his now famous "Goodbye Dance" that he had invented especially for this trip. As bad as we felt seeing our dear friend leave, I think JJ felt even worse knowing there are so many adventures to be had in Japan and he didn't have enough time to explore. Next time, JJ.
One of the top things on our "To Do" list in Japan was to take Squi to the Doraemon Museum. Doraemon is a Japanese animated figure that has been around a long time. It was Kaz's favorite character when she was a kid and now it is one of Squi's favorites. The museum, I am sorry to say, was a HUGE disappointment. It WAS more of a historical museum than a place for children. Oddly there were large fiberglass castings of the characters in the Doraemon cartoons but they had signs on them not to touch them or climb on them. Some were available to touch and take photos with but most of them were off limits. It was like having kids in a candy shop and not letting them have most of it. While I did enjoy reading about the history of it, it was disappointing from the standpoint of a good time for Squi. He got bored and was wanting to touch all the "untouchable" so we cut our visit down a bit.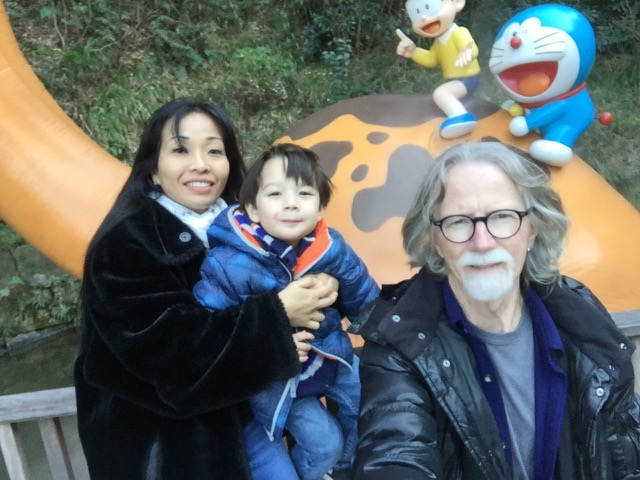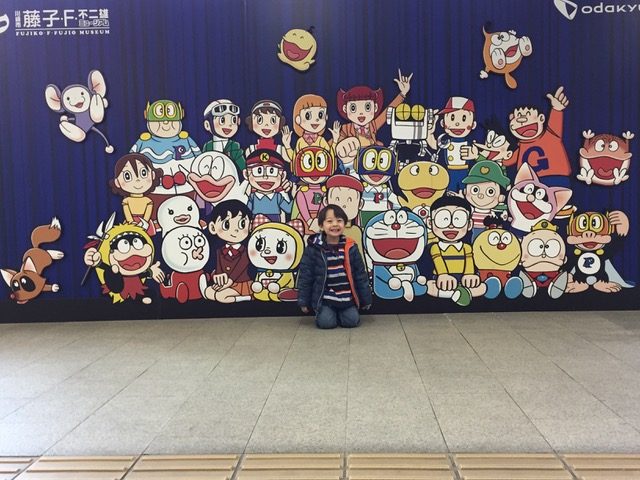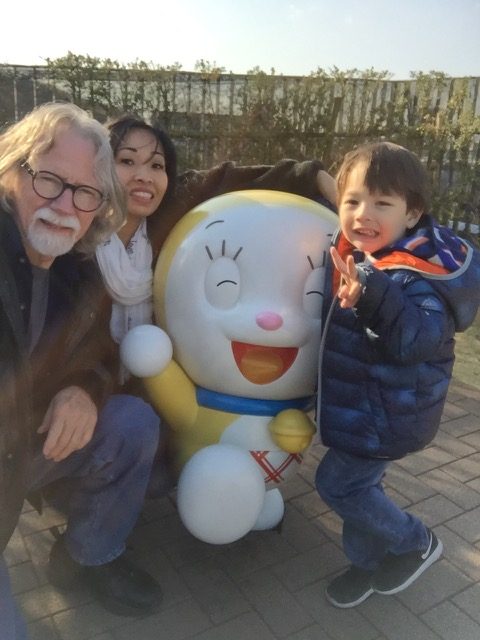 We jumped train and headed to Yokohama to nose around and visit, of all places, Chinatown. So weird to me to go to Japan and visit Chinatown but it was interesting and fun. We had some good food and walked our legs off. The ship "Nippon Meru" is in a dock there and is a beautiful old vessel. It was built in 1930 in Kobe and was a training vessel for the Japanese Merchant Marine. I'm not sure if it is the original ship or a replica but it is a lovely old thing if you are into ships.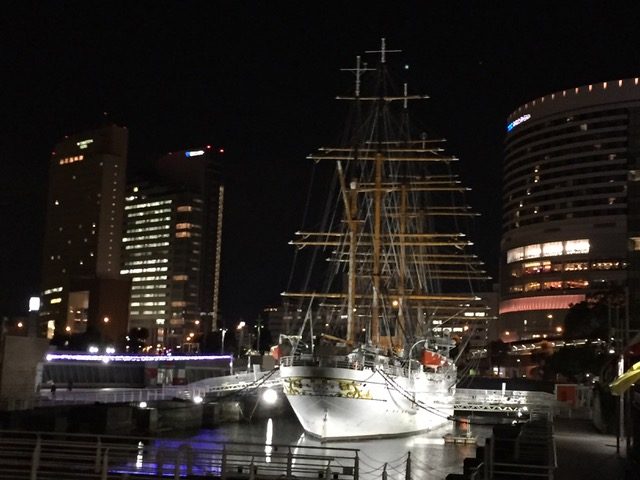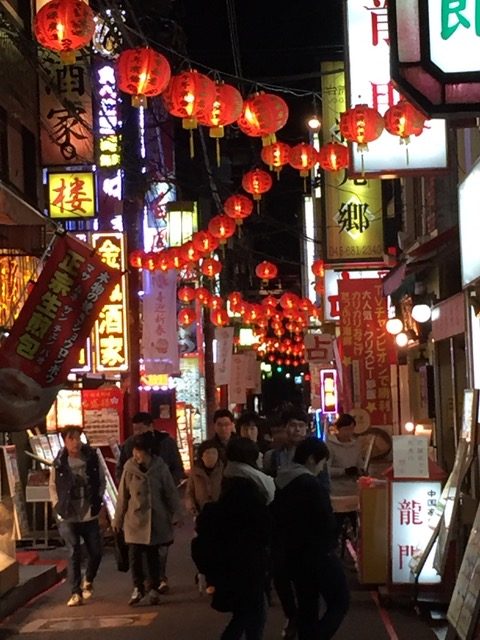 Our dear friend, Tamara, is into anything "Panda", so we sent her a text message with a photo of a shop in Chinatown that is COMPLETELY dedicated to all things Panda! I'm sure she will have to buy a ticket to Japan just to shop in that store. I'm sure she would go crazy buying panda stuff and have to buy another suitcase for her trip home.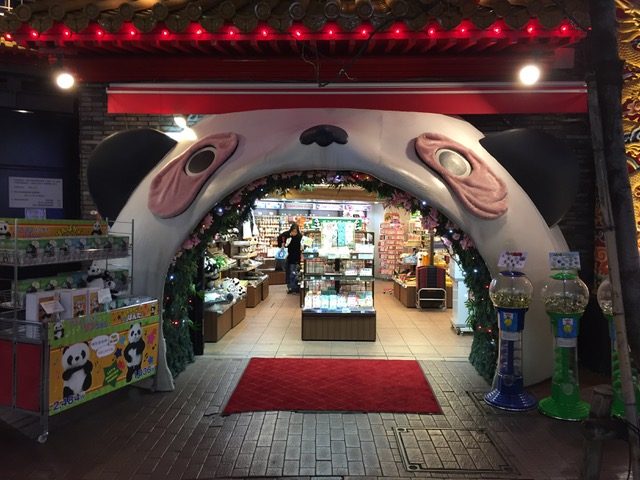 We were exhausted again from a full day of walking, shopping, eating, and riding trains so we headed back to our room and had a nightcap of sake and beer. Nice way to end another terrific day in this gracious wonderful country.