Today Russell felt better and we're off to be tourists again.We took the train to Uji to see a beautiful temple built in 1053.    https://en.wikipedia.org/wiki/Byōdō-in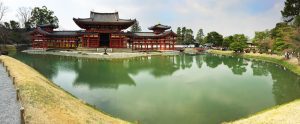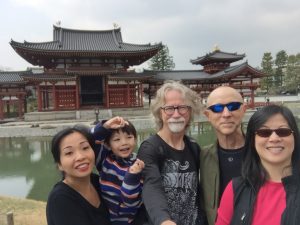 There is such a rich history here in Japan. Russell and I drive the girls crazy because we want to read all the signs and all about the history, whereas Kaz will take a look, grab a brochure, and check it off her list. Luckily, Squi can't move quite that fast so we can easily compromise.
We jumped on another train and back to Kyoto we go. We hopped a taxi and got lucky because the driver was a pro tourist guide. He gave us lots of info and took us to our destination at Kiyozumi. There are about 67 gazillion steps up to the temple and they call them the "2 years steps" and another place called "3 years steps". Basically, the legend has it that if you trip on these steps, you lose 2 or 3 years off your life. At my age, I was very careful.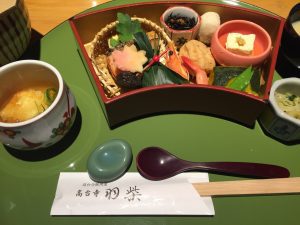 We had a really nice dinner at Hashiba at a restaurant that didn't usually open for dinner but we got lucky. They wereopen because, again by a stroke of luck, we happen to be there during "illumination time" which is a sort of celebration each year where they light up the streets.
As we descended the gazillion stairs, there were shops on each side so Carol and Kaz shopped while Squi begged for ice cream and Russell and I sat and people watched.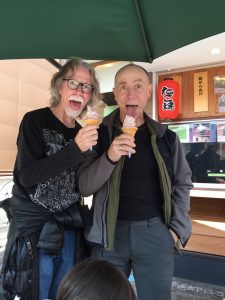 The girls got their shopping mojo satisfied, Squi got his ice cream, and off to yet another temple we went.
Kodaiji Temple has a really cool light show that is this crazy sort of 3D thing that they project onto the ground and into the trees.
So pretty and almost impossible to take a photo of….so sorry about that. There is also a wonderful bamboo forest there at Kodaiji Temple and the lights illuminating it were wonderful and magical.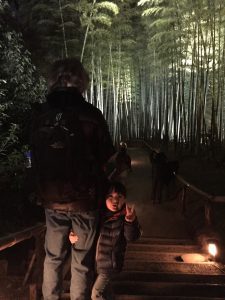 After the light show we wandered around a bit on our way back to our hotel. One common thing to do in this area is look for all the Buddha statues and rub their bellies or pet them in some way. There is a map to where they all are but we just looked for the ones that were convenient to our path.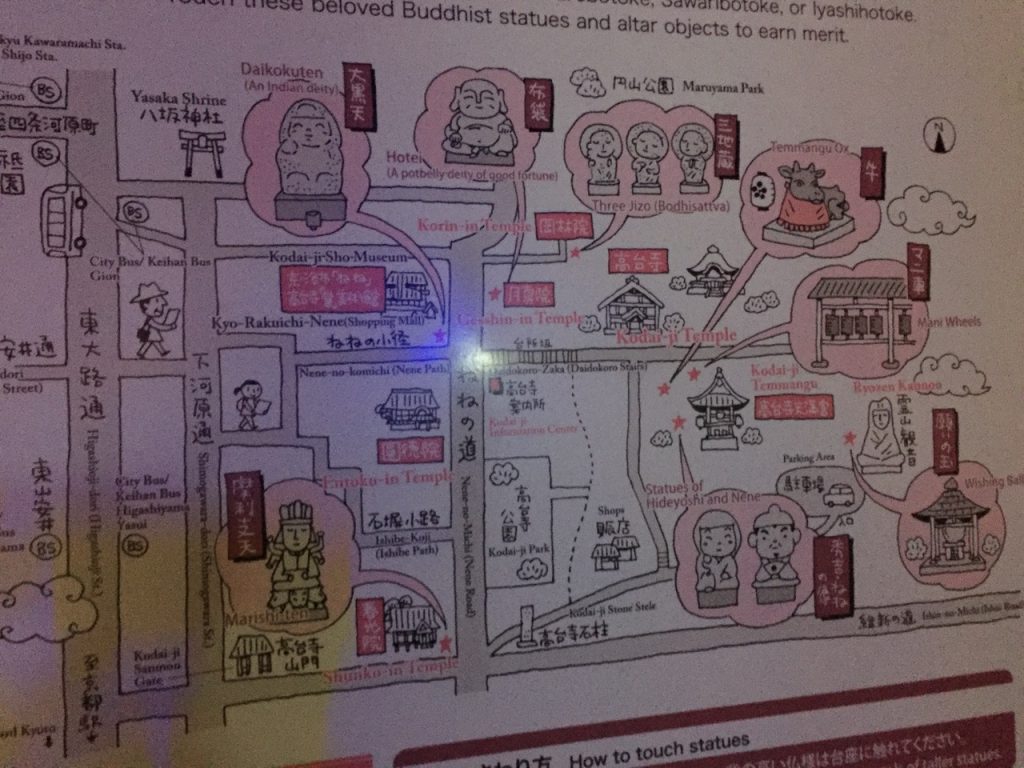 Carol and Russell were pretty worn out so they retired to their room but Kaz, Squi, and I headed back out to hit the town. We walked over to the Kyoto Tower http://www.japan-guide.com/e/e3945.html. and up to the top floor to have a drink but it was packed and we couldn't get in. We got a kick out of a sign that said,"Sign up for a sheet!" They meant to say "seat".
We hit the streets again and found Yebisu Bar open and still serving. Squi chilled while Kaz and I had a drink, people watched, and munched on appetizers.
Another great day in Japan!