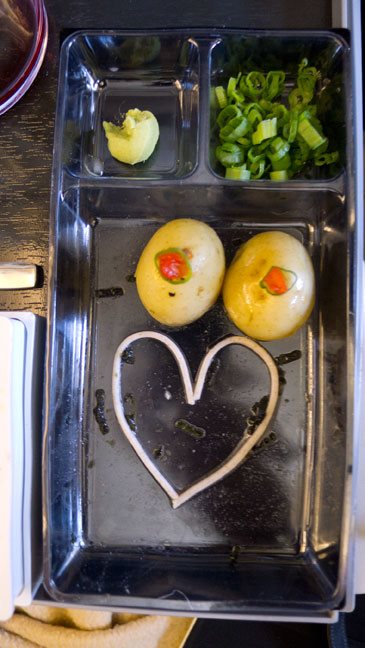 Time is certainly displaced. We're not really suffering jet lag but it's obvious our bodies are weirded out by being here.
My girlfriend and I traveled today to Atsugi, about an hour train ride from Tokyo. We had some business to take care of there. It was a bit frustrating because we couldn't get everything done we needed to, but the traveling to and from was delightful.
I was amazed, looking out the train window, there was not ONE piece of litter. I think we traveled 20 miles or more before I saw so much as a tissue paper beside the tracks. The Japanese, even in the less affluent areas, are incredibly tidy.
During the morning commute, the subway trains are packed so full there are literally uniformed individuals called "pushers" whose job it is to shove people into the cars as tightly as possible. As the doors slide shut they get very aggressive and carry out their job of sardine commuter packing very seriously… and they do it with smiles and white gloves and a charm that everyone not only tolerates but respects.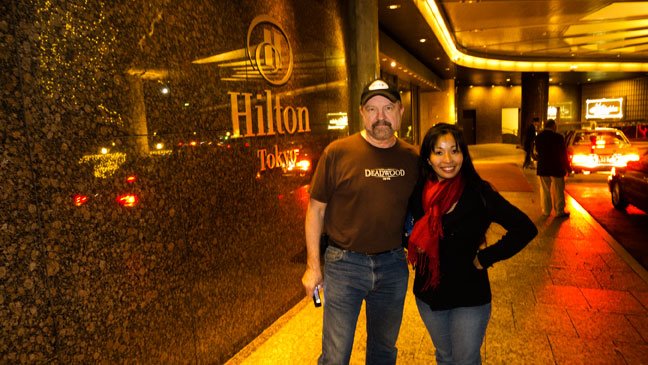 It seems there is a favored practice here, especially in Tokyo, if one desires to remove himself from the gene pool, to use a swiftly moving subway train as an exit strategy. Flinging oneself in front of said speeding subway is pretty effective and dependable. It's also an efficacious way of thumbing one's nose at those left behind because there is a hefty fine levied on the surviving family of the jumper. Today we sat in the subway for an extra 7 minutes so the cleanup crews could gather parts and pieces of some disgruntled soul. I don't think "cleanup crew" is a job I would ever apply for. I prefer to interact with human beings with all their parts assembled correctly and firmly attached. What amazes me is we were only delayed 7 minutes…these guys clean up fast! In Japan it is disgraceful to be late, so perhaps this manner of suicide has more implications than the obvious.
We continued our journey and it was amusing to see modern architecture blended in among old old temples. We passes mile after mile of packed high rise apartment buildings. It terrifies me to imagine what a lethal virus could do in Tokyo.
We did have a short bit of entertainment from a psychotic dude on the train. Seems a few of his personalities were along for the ride and they decided it was a good time to announce he was gonna take a singing test. He then became his teacher and said a few corrective words, then went back to being "himself" and proceeded to sing for us all. It was short and ceased to be amusing after the third or fourth time through his recital. But it was a way to pass time as we sat waiting for arms and legs to be tossed into plastic bags somewhere down the tracks.
Then there are all these young Japanese girls in school girl outfits. Perhaps it is the better part of discretion not to comment here.. Geeeeeeez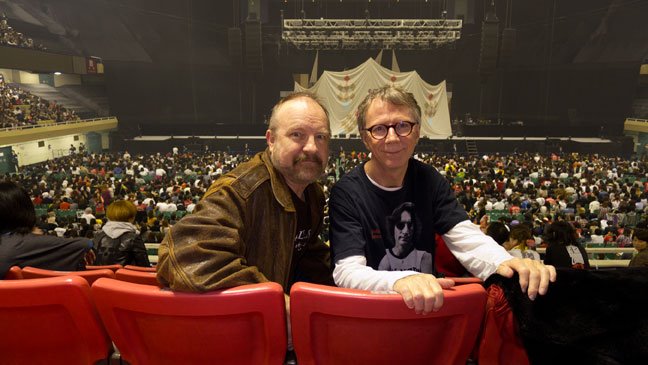 Tonight we went to Budo Kan and saw Def Tech. I had no idea what either of those things were but there I was shooting photos of the whole thing. It was loud, young, and Def Tech certainly seemed well received.  Maybe I'm getting old but I'm truly not impressed by electronics. BUT there were some tunes they played that made it obvious there was talent on stage. Guess I'm an old fart… I just LIKE rock and roll.
After the concert we took a long stroll in the rain and went to a little hole in the wall restraint I love here in Tokyo. If you've never had shishito peppers….yum…. get some!
I passed on the horse sashimi.
I am here with my girlfriend and my dear friend, Jim Beaver, who is one of the lead cast members of a TV show called "Supernatural". I've know Jim many years and it's fun to see his career doing so well. He gets recognized a lot here in Japan and he said there was a "small mob" waiting for him when he got off the plane here. How do people find out these things??
Tomorrow night there is a dinner here for him… a bit of PR for the show.
More later… Asahi  in Japan, mmmm….good beer.