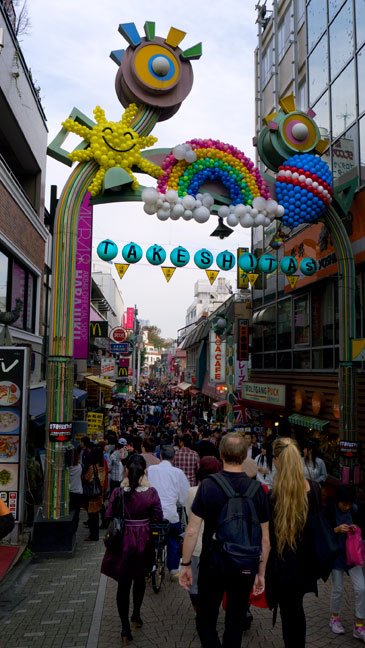 Got up early for a short meeting…admittedly a bit hung over. The meeting went well and after a couple cups of coffee, I was fully awake and the aspirin had kicked in. My gf, my friend Jim, and I, LITERALLY went to Denny's for breakfast. Our curiosity was killing us. We HAD to know what Denny's in Japan might offer. Well….I can tell you this… you can't find natto in Denny's USA but you can here. Although I like natto, I had a more traditional fare.
So what better way to spent a morning then to take a nice walk to Harajuku. It's about 2 miles or so from where I am staying at the Tokyo Hilton. HOWEVER, the way I went , it was about 4 miles. I literally took photos on my way there so I could find my way back. Tokyo isn't an easy place to navigate. I FINALLY found it and walked around just loving all the people watching. I gotta say, Harajuku girls are hot. They look like little dolls. I looked all over to find a Tshirt that said Harajuku" on it. I thought it might be a good one to auction off here on DA to support the Japan relief efforts. But all I could find was T shirts with "Los Angeles" or "New York" written on them!! Geeeez.
I bought my gf a cute set of pink "Hello Kitty" chopsticks. While it baffles me why a grown woman would be so enamoured of "Hello Kitty" stuff, I have no idea…but whatever. Back at our room, we were having a drink with friends when I gave them to her. Since I can't read Kanji, I had no idea they were personalized and had name on them that was NOT hers. It would be kinda like buying your wife a coffee mug with "Mabel" written on it when her name was Fran. NOT good. It was made worse by the fact she knew a girl by that name and DID NOT like her. It was compounded by the fact she didn't like the color. How was I to know that pink EVERYTHING is FABULOUS….EXCEPT for chopsticks. Needless to say, the teasing I had given Jim the day before about not having enough money to pay for his meal, was returned today.
I strolled around and took a few photos but not everyone likes having their photo taken, so I mostly shot places and crowds.
I had to be back at the Hilton by 3:30 for another meeting. I arrived at EXACTLY 3:30 exhausted and sore.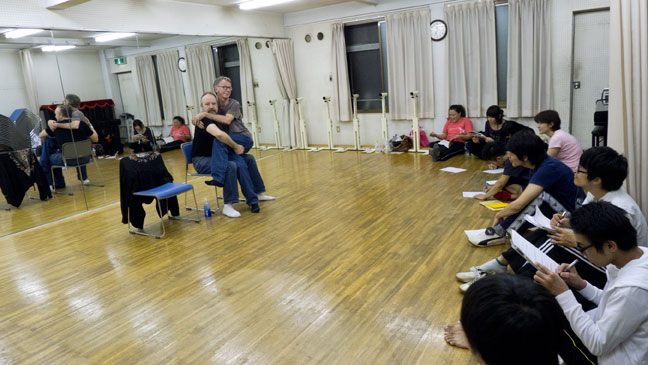 Then I had another speaking engagement to dash off to, so there was no rest for my weary legs. Jim and I were the guest speakers and the studio where we were to speak was only about a mile away. We got lost…. again.
We had the foresight to rent cell phones for our stay in Japan, so after 3 phone calls we arrived half hour late. Part of Jim's talk also involved him doing a monologue from "King Lear". He played Edmond convincingly. Of course, after the applause died down I had to say,"WOW…that was amazing Jim. I had no idea Edmond was gay!" He did a double take, then burst out laughing.
We had a wonderful sushi dinner after the studio stuff was done. We found a lovely little hole in the wall resteraunt with AMAZING food. We ate til we were about to explode and then toasted Sake. Thankfully, we made our way back to the hotel without getting lost.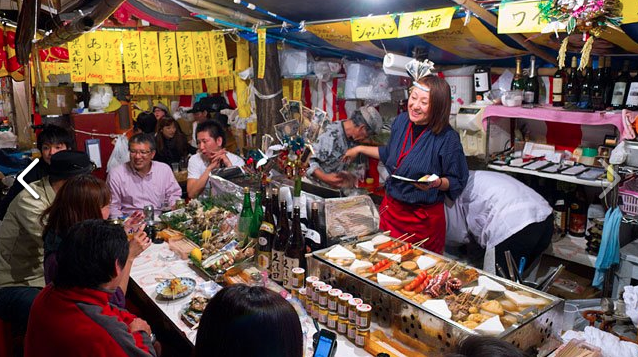 Jim retired for the evening but my gf and and I went to Shinjuku Hanazono to an annual festival held at a huge temple there. It was amazing. We had been there last year and remembered it was being held this time of year. I was amazed at the things you could buy there. When I get back to LA, I might post some of the photos. There was a wall of lanterns about 150 feet long and about 40 feel high and priests performing lots of rituals for luck, for family, for friends…and I think pretty much anything you could imagine.
I bought some spices to bring home. Can't wait to cook with them. We walked up this BIG staircase, tossed some coins in a fountain, rang a bell, and clapped three times. It was charming.
Tomorrow we are off to Osaka. Sake anyone!????