From Tokyo to Kyoto is about 320 miles, which translates to about 2 hours and a half bullet train ride. It's a beautiful ride with, on a clear day, a lovely view of Mt. Fuji. While it was a wonderful ride, it was too cloudy and overcast to see Fuji.
While Squi took a nap, Carol, Russell, and I went to see the Fushimi Inari Gate.
https://en.wikipedia.org/wiki/Fushimi_Inari-taisha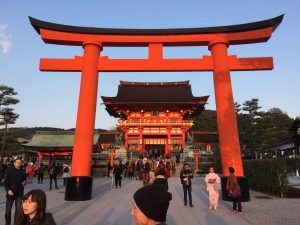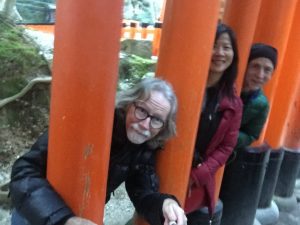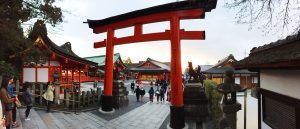 There are supposedly 1000 tori gates here and as much as we'd love to ascribe deep spiritual meaning to them, the truth is they were donated by business men. Of course, there IS a bit of spiritual overtone to all tori gates but "spirituality" in Japan is much more secular than the implications in Western culture.
https://en.wikipedia.org/wiki/Torii
One very famous temple in Kyoto is Toji Temple. The 5 story (about 150 feet tall) wooden pagoda is the tallest wooden tower in Japan. How a structure like this can be built and continue to stand for HUNDREDS of years in such an earthquake prone country is mystifying.
Settling into our hotel rooms in Kyoto and having another great meal was perfect after a day of sightseeing and LOTS of walking.
But let me just say a little bit about Japanese toilets. They are…uh…interesting. While I like the nice warm heated seats, from there on, the choices are baffling.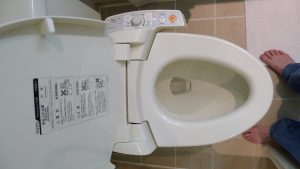 The bidet…where it points, how strong, what temperature, what the spray looks like, etc etc…baffling. I dreaded going in to poop and having my toilet "crash" and having to reboot it! And of course, all the instructions are written in Japanese, so suffice to to say I got several surprises while in Japanese bathrooms.
Which brings me to one other thing. The Japanese do MOST things better than we do here in the States but one area where they fall behind is paper products. Napkins, paper towels, Kleenex, and the all important toilet paper. IF you get a napkin in a restaurant, it's usually very thin and fragile as are the kleenex and TP. So I often bought extra thick kleenex to keep with me at all times for various purposes.
One last note to all who are considering a trip to Japan…there are very few public trash cans. You are expected to take your trash with you and dispose of it back at your hotel or home. It makes for a VERY clean society. I've looked out the window of many trains there and for miles and miles never seen as much as a kleenex or discarded paper on the railroad tracks! I admire that!