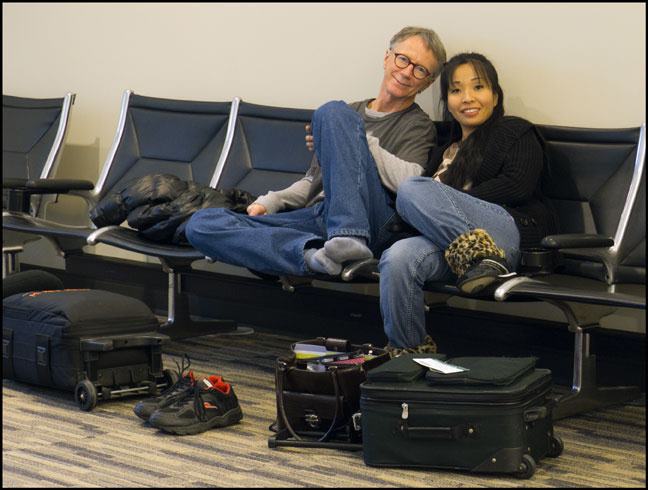 Well…My girlfriend and I are off to Japan next Wednesday, the 9th. We're pretty excited. Although we're gonna be there for more than two weeks, I think we only have two days off. We have speaking engagements teaching engagements, and I have shooting to do. We arrive in Tokyo and then head West to Osaka and Okayama. We're gonna speak at the Osaka Mode Institute of Beauty. Then to Okayama to visit a Sake brewery that we are trying to help bring their distributorship to the US. I'll probably shoot some of the corporate dudes there.
Then we're off to Nagoya to visit another institute and speak. Back to Tokyo for a second then on to Sendai. We'll stop by our house there and take a few pix and check the harbor we loved so much. Most of it is probably destroyed but I'm gonna shoot a lot there and try to get some record of the recovery efforts taking place. After that, we head North to Akita International University. My girlfriend and I are both speaking there to students about characteristics of successful international entrepreneurs. Her topics will be "body language, image, and cultural norms in corporate structure. My topics will include image making, demographic identification, and marketing – all of course with emphasis on photography. I'll also be shooting some actress there who is evidently well known in Japan….geeez…I don't know.
Then we're heading back down to Sendai and Minamisanriku, which was pretty much earthquake ground zero. 95% of the town was destroyed and 50% of the population is gone. I'm gonna try to focus on the recovery and not the devastation. If you go to Google Earth and type in Minamisanriku, it is a sad sight to see.
From there we head back to Tokyo where I'll be teaching a head shot workshop. We head home the next day. Somewhere in there we have a day off I think.If you are in Japan, please stalk us!!

OK….I mean let's have some SAKE!!!!
Here's our itenerary:
[link]
Maybe I'll even get lucky and get a shot of a cute Harajuku girl! I'll be there too!